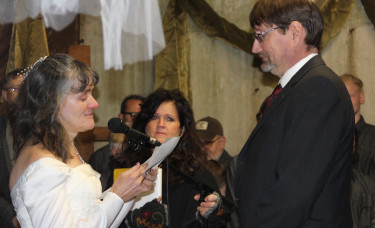 Dan,
You are a true gift from God, chosen and brought into our family by Paul. I vow to be forever grateful. I am amazed and humbled by the thought that today, the precious gift that you are has been given to me. I vow to allow the Lord to always make me a good gift, and I thank Him for giving me to you.
I will always love God with all my heart, all my soul, all my mind, and all my strength. And in that exchange, I know that He gives me His unconditional love for you. I love you with the love of the Lord. I delight in who you are, and I promise to always see you as He sees you. I can see in you the gory of my King. And I know that I am wonderfully blessed to have you in my life. I will hold you in my heart and in my arms with many, many tears of joy.
I vow to use my words to build you up and encourage you according to your needs. I will speak the truth in love and will always let my speech be seasoned with grace, that my words might bring you life.
It is with serious contemplation that I stand before you today and promise to submit unto you as unto the Lord. We are united on most things, but when we don't agree, I will accept your decisions without murmuring or complaining. I trust you to lead me and my family. I choose to respect you, to consider you more important than myself. I will put your needs ahead of my own and help bear your burdens.
I vow to be frugal, prudent, virtuous and trustworthy, allowing the God who lives in me to be a blessing to you, that you may have full confidence in me and lack nothing of value. I vow to be your crown, bringing you honor. And I will always strive to be the Road Runner in your garage so you never feel tempted to go out and steal a Volkswagon.
I promise to be faithful to you. Like our Savior Jesus, I will never leave you or forsake you. But I forsake all others and give my romantic love to you alone.
I will be with you in good times. I will cheer you on and celebrate with you. And in hard times, I will weep with you. I will be a true friend, pointing you to Him, lifting your downcast eyes, turning your wandering gaze to the skies, to Jesus, the lover of your soul, your first love.
I vow to fight against the enemy with you. Satan comes to steal, kill, and destroy, and I will fight for you whenever necessary. I will not quit or accept defeat because we have Jesus who came to give us life.
And I will live that life to the full with you. Your friends will be my friends.Your family will be my family. Your team will be my team. I accept your life's vision and make it mine as well. I will walk, run, and love together with you so long as we both shall live.
And because your God is my God, I promise to love you deeply FOREVER!